Municipal park & Botanical Garden • Leuven
Right in the centre of Leuven, you can find a market on Fridays and Saturdays with all sorts of products. So take your pick of the products on offer and head over to the municipal Sint-Donatuspark, ideal for some rest and relaxation between discovering the highlights of Leuven. Or opt for a bench at the oldest Botanical Garden in Belgium. A beautiful, tranquil location, in the very heart of our vibrant city.
Park Abbey • Heverlee
Come and check out Park Abbey! It's a wonderful and well-preserved 12th-century heritage site on the outskirts of Leuven, surrounded by green space. Here you'll find long winding paths through the trees, peaceful lakes populated by swans and ducks, and vast fields that are often home to adorable cows. You can even book a special scavenger hunt that you can do with the whole family. And there's no need to take food from home. Grab some treats at the abbey farm shop 'De Wikke'. It offers a wide range of organic fruit & vegetables and products from the abbey farm, which is a project where social economy and farming meet. Only organic (and sometimes all but forgotten) vegetables are grown there by people who have difficulties integrating into the regular labour market.
Arenberg Castle Park • Heverlee
Rent a bike in Leuven and head over to Heverlee. On the square of the station of Heverlee, there's a food market every Sunday. Buy your picnic items there and then walk towards the striking Arenberg Castle with its impressively big park. On some Sundays, you can combine your picnic with a guided tour in the castle itself! A guide will lead your group through this iconic building and passionately tell you more about the life of the former noble inhabitants. Check out the website of the Arenberg Castle to discover when there is a tour in Dutch or English.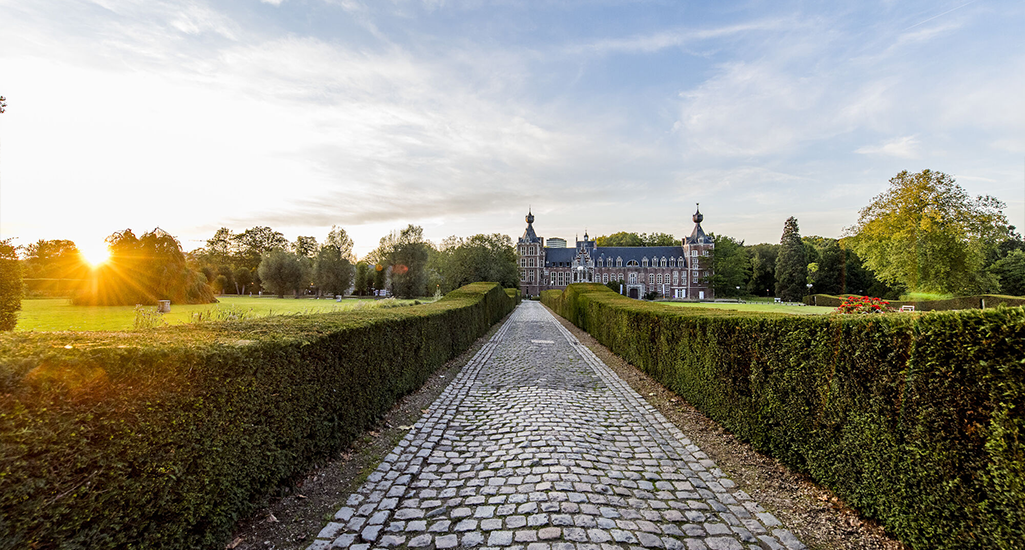 Provincial domain • Kessel-Lo
HAL 5 in Kessel-Lo, near Leuven station, is a former warehouse that houses various delicious food concepts and social organisations. Fill your bag with your favourite picnic food, take a seat at the pop-park or head over to the Provincial domain Kessel-Lo. It's a beautiful park where you can play games, enjoy sports, head over to the traffic park or discover the water eco-centre. But also for romantic souls and gatherings of friends, it's a great place to enjoy nature and spend time together.
Ponds of Bellefroid • Wilsele
Walk around the Vaartkom and enjoy the canal area. Choose your vegetarian takeaway food at no waste restaurant Noordoever and enjoy your favourite flavour at the "ice-cream boat" Coupe Matadi, a converted cargo ship from 1929. Head over to the Ponds of Bellefroid (ten minutes' walk) and observe the many waterfowl from behind one of the two birdwatching towers, sit down by the water for your picnic or simply follow the walking path and enjoy the countryside for a little while.
Afterthoughts
Want to enjoy the summer breeze well into the night? Book a room and spend the night in or around Leuven. That way, you're within walking distance of one of the local markets the next morning where you can stock up on fresh ingredients for your next picnic.