If you fancy a snack: neighbourhood bar Leuven Central
Everyone is welcome to enjoy a Stella or a coffee with Gie at the atmospheric neighbourhood bar Leuven Central. Here you can order a simple, but oh so tasty, Belgian snack: a "pistolet" crunchy bread roll filled with cheese, ham, or raw beef spread or a home-made boulette with steak tartare. The bar is also within walking distance of the Town Hall and Saint Peter's Church.
Among the brew kettles: De Hoorn
Brouwerij De Hoorn, located in Leuven's most innovative district, the Vaartkom, is always a great idea for a visit. The very first Stella was brewed here. Between the old brew kettles, you can taste Belgian classics such as shrimp croquettes, beef tartare or Flemish stew with a St Bernardus Abt 12 beer. On sunny days, you can dine on the terrace with a view of the modern Sluispark the neighbourhood park, which the kids will absolutely love.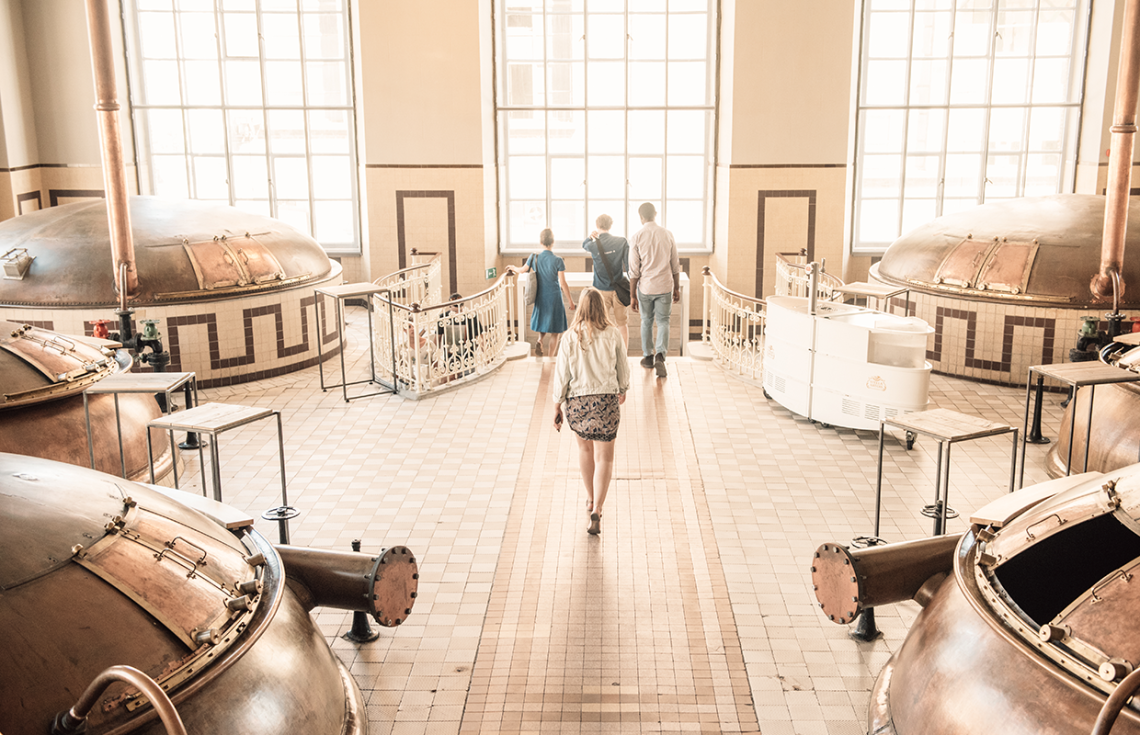 Timeless tradition in Belgian gastronomy: De Troubadour
Close to the multifaceted museum M Leuven and the impressive University Library you will find De Troubadour. If you're after something a little more classy. The authentic atmosphere of a Leuven patrician residence has been preserved here. Relax in the soft leather chairs and savour the famous dishes according to the rules of the art, such as Flemish stew, Belgian endive rolled in ham topped with cheese sauce, steak, mussels, asparagus, "paling in 't groen" (eel in green sauce), rabbit with prunes, etc. Tip: they also serve vegetarian vol-au-vent here.
With an interesting twist & it won't break the bank: Dewerf
On the terrace of Dewerf Leuven, conviviality is guaranteed and you can eat very cheaply (for under 15 euros), perfect for those travelling on a budget. What's special about Dewerf is that you can order the Belgian classics as a chowder. A small bread roll, which is hollowed out and filled with Flemish stew or chicken fricassee. White and black pudding with apple compote and a dessert such as the speculosisu (tiramisu with Belgian speculoos) also feature on the menu here. Afterwards, walk it all off in the nearby municipal park or the beautiful 200-year-old Botanical Garden.
On the abbey site: De Abdijmolen
Park Abbey is one of the best preserved abbey sites in Europe, located on the edge of Leuven and surrounded by greenery. After your delightful walk and informative guided tour of the abbey dating back to the 12th century, you can enjoy a delicious meal in the restored abbey mill. It's a lovely setting for savouring Belgian treats such as asparagus Flemish style, steaks, Flemish stew, vol-au-vent and waffles.
Didn't find what you were looking for? Of course, there are other tasty addresses too. Set off and explore, there are lots of restaurants around every corner. A great atmosphere in Leuven.
Combine a taste of these classics with a night's sleep in our city