Bar Stan
Can you think of anything nicer on a city trip than heading to the pub and chatting with the locals? The chance that this will happen to you at Bar Stan is very real. This local bar likens itself to a public living room. They serve breakfast, coffee, brunch (on Sundays), lunch, cakes and dinner. What's even better is that Bar Stan is located just outside the city centre, in Het Nieuw Kwartier, giving you the opportunity to discover a new neighbourhood.
Bar Stan
• Constantin Meunierstraat 2, 3000 Leuven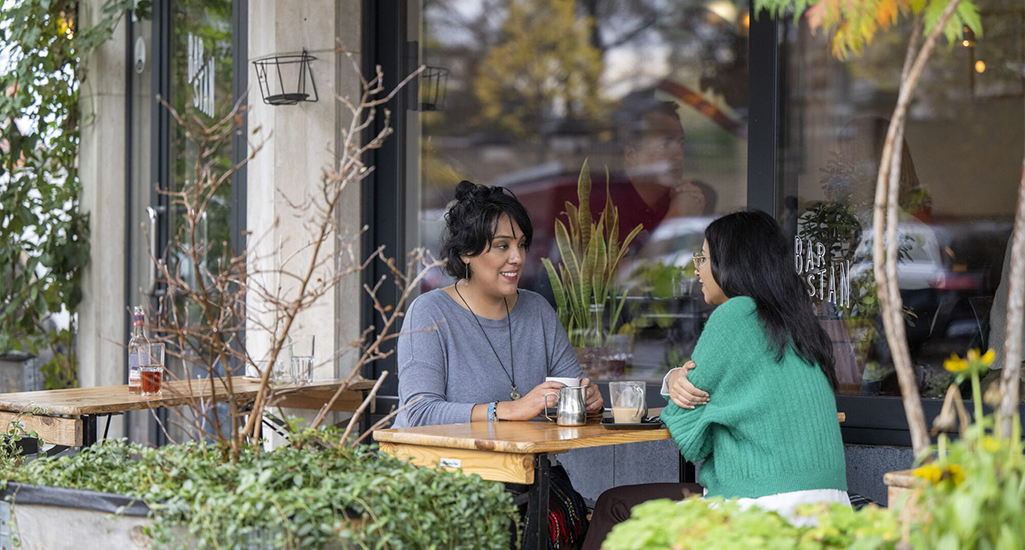 De Hoorn
Before the Vaartkom became Leuven's artistic hub, it was the city's industrial neighbourhood. This explains why it's home to the De Hoorn brewery, which paved the way in 1926 for a Leuven beer that has since become famous the world over: Stella Artois. The terrace of De Hoorn looks out over Sluispark and Saint Gertrude's Church. The perfect place to enjoy a drink and see the past and present converge.
Dewerf
Leuven is a student city and Dewerf is one of those places that all the students know. They offer a budget-friendly menu in an original setting. Your coffee is served in a thermos, your biscuits in a lunch box and if you order a fresh orange juice, you get to press it yourself. Its terrace is an eyecatcher in Hogeschoolplein and one of the best spots to chill and catch up with friends. One of our personal faves on the menu is their "ballekes met tomatensoep". Yes, that's right, a bowl of tomato soup with more meatballs in it than soup! Please note: Dewerf is unfortunately closed on weekends. So make sure to visit it on a weekday!
Dewerf
• Hogeschoolplein 5, 3000 Leuven
OPEK/Café Entrepot
The Vaartkom, Leuven's trendiest neighbourhood, is also home to OPEK, a meeting place for the arts. This fascinating arts centre has a spacious terrace by the water. They serve simple but tasty meals and drinks. A great place to spend a sunny afternoon under the cheerful flags overhead.
Bar Del Sol
Imagine: the sun is shining and you're on the hunt for the perfect summer thirst-quencher. There's only one place to go: Bar Del Sol for a fresh sangria. Order a pitcher to share with your friends. This place looks, feels and even tastes like Spain! The small, cosy terrace is slightly off the beaten track, away from Leuven's busy streets. Combine it with a visit to the Great Beguinage.
Domus
Local brewery Domus is located near the historic Town Hall. Domus is a brewery that has a bar and restaurant, with a great terrace in Vounckplein. They serve their own three brews: Con Domus, Nostra Domus and a seasonal beer. You can order a wooden sampler board containing all three beers so you can taste a bit of everything. Nostra Domus is our personal fave but there's only one way to find which is yours! By tasting them all, of course!
De Oude Markt
Last but not least: Oude Markt! Also known as the WORLD's longest bar! This square is almost completely lined with cafés and restaurants, each with their own terrace. If you want the full Leuven experience, you should definitely stop here for a drink. It's almost impossible to recommend one specific place but that's what makes Oude Markt so nice: it's a great place to be wherever you go!
Chances are you'll end up staying longer in the city than you expected on a balmy summer's night... No worries! Leuven has a wide range of accommodation where you'll immediately feel at home.