Once a dilapidated industrial and brewing site near the Canal, this area is being transformed into one of the city's trendiest spots. Drop by and discover the perfect synthesis of old and new, with plenty of green and new restaurants and shops that are popping up around the harbour.
The old Stella Artois brewery has become De Hoorn, a place for like-minded creative spirits to come together, and which also naturally includes a café and restaurant. The terrace spills out into a fabulous new neighbourhood park, the Sluispark.
The former Customs building is now home to OPEK, a place for artistic organisations and a great cultural café.
The Balk van Beel residential complex by star architect Stéphane Beel is a shining example of sustainability.
Tips
Go in search of the original works of art by local artist Pieter Janssens. We recommend looking upwards as well.
Food & drinks in the neighbourhood: Café Entrepot (OPEK) & Coupe Matadi (for an ice cream in the summer months)
How to get there?
ATTENTION: There will be no shuttle bus at Parking Vaartkom on the 24th and the 31st of December.
On foot or by bike
Distance from the train station: 1,1 km
Distance from Visit Leuven, Naamsestraat 3: 1,4 km

By car
Parking in the neighbourhood: Vaartkom
Accessibility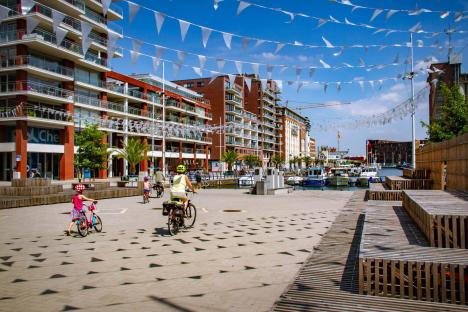 Tip:
Ontdek in groep met een gids de geschiedenis en toekomst van deze bruisende buurt.
Tips
Ga op zoek naar de originele kunstwerken van lokale kunstenaar Pieter Janssens. Kijk hiervoor ook eens omhoog.
Ga op zoek naar de vele eetadresjes in de Vaartkom.
Bereikbaarheid
Adres: Vaartkom, 3000 Leuven • ligging op kaart

Met de bus
Halte Engels Plein & Vaartvest
Routeplanner De Lijn


Gratis shuttlebus (vrijdag, zaterdag & koopzondagen)
Van Parking Vaartkom naar het centrum en terug.

Vrijdag: 9:00-18:00
Zaterdag: 10:00-19:00
Koopzondagen: 14:00-19:00
Haltes:

Parking Vaartkom
F. Smoldersplein
Vismarkt (niet op zaterdag)
Jan Stasstraat (niet op zaterdag)

Toegankelijkheid:

Verlaagde instaphoogte
Mechanische rolstoelplank
Plaats voor 1 rolstoel
OPGELET: Op 24 en 31 december is er geen shuttlebus aan parking Vaartkom!
Te voet of met de fiets
Afstand van het station: 1,1 km
Afstand Onthaal Visit Leuven: 1,4 km

Met de auto
Parking in de buurt: Vaartkom
Toegankelijkheid