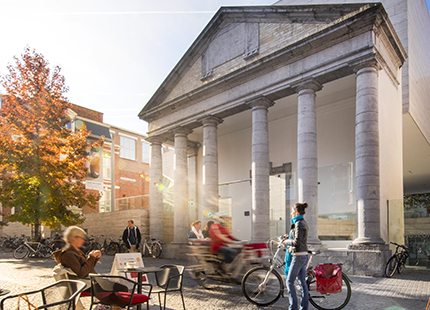 The museum displays old and new art inspired by Leuven's versatility. The collection is mainly focused on the art production in Leuven and Brabant from the Middle Ages to the 19th century. It includes Constantin Meunier, Jef Lambeaux and Georges Minne.
In addition to the permanent collection, M also presents temporary exhibitions of both old masters and contemporary artists. Discover the personalised offer for groups and families.
The impressive architecture deserves special attention. Designed by Belgian top architect Stéphane Beel, the complex integrates historical buildings and contemporary architecture. Don't miss the enclosed garden and roof terrace.
Opening hours & tickets
Individual visitors:
11:00-18:00
Thursdays: 11:00-22:00
Wednesdays: closed
With an audio guide
Groups:
Tips
The courtyard is the ideal place to get away from the hustle and bustle.
Food & drinks in the neighbourhood: Mgr. Ladeuzeplein & Tiensestraat
Visit the Town Hall, the University Library & Tower and M Leuven or Park Abbey at a favourable rate with the
ILUVLeuven Ticket
How to get there?
Address: Leopold Vanderkelenstraat, 3000 Leuven • location on map

By bus
Bus stop Rector De Somerplein
All busses in direction of the city centre
Route planner

On foot or by bike
Distance from the train station: 950 m
Distance from Visit Leuven, Naamsestraat 3: 350 m

By car
Parking in the neighbourhood: Ladeuzeplein
Accessibility