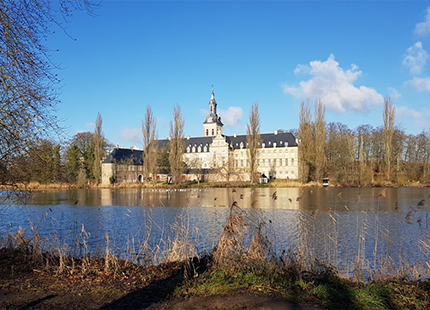 At one time, Park Abbey was one of the foremost abbeys in the Southern Netherlands. Nowadays it is the best-preserved abbey in Belgium. A green oasis on the city's fringe, where the land and the abbey buildings tell a fascinating story. The abbey's historic halls were restored recently. Immerse yourself in the history and philosophy of the abbey and the Norbertine Order. The showpieces are the unique stucco ceilings in the library and the cloister aisle with 20 virtuoso reinstalled glass-in-lead panels from the 17th century. Visit the heart of Park Abbey in the PARCUM museum, a dialogue museum for religion, art and culture.
Good to know
A visit to the abbey site itself is free; you only pay for a visit to the buildings.
Opening hours & tickets
More information about opening hours & visits (Park Abbey & PARCUM) can be found on this website
Discover all the activities at the abbey site
Tips
Don't forget to visit the library at its beautiful stucco.
Be sure to pass by the unique sound artwork Silentii.
Food & drinks in the neighbourhood: De Abdijmolen
Visit the Town Hall, the University Library & Tower and M Leuven or Park Abbey at a favourable rate with the
ILUVLeuven Ticket
How to get there?
Address: Abdij van Park, 3001 Leuven (Heverlee) • location on map

By bus
Bus stop Abdij van Park • Bus: 4, 5, 6, 597, 630
Route planner

On foot or by bike
Distance from the train station: 2,4 km
Distance from Visit Leuven, Naamsestraat 3: 2,2 km

By car
Parkings in the neighbourhood: Philipssite & Park Abbey (Neerhof, 2 hours with blue disk)
Accessibility
Accessible (attention: cobblestones)