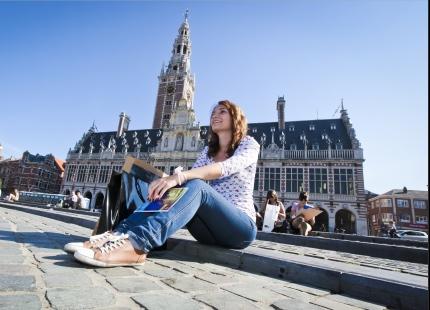 The students create a young, vibrant atmosphere and a pleasant bustle in the venerable city centre. Thanks to the university, Leuven has been an innovative city of knowledge for centuries. The historic city centre's beautiful monuments and rich heritage are a great showcase, as are the modern, urban renewal projects. Culture and creativity reign. Moreover, Leuven is home to Stella Artois, a hot spot for beer buffs and gourmands. Plus, it's a shopping Mecca for demanding shoppers. In short, Leuven has all the advantages of a big city in a charming setting with a small-town feel.
University city: knowledge and innovation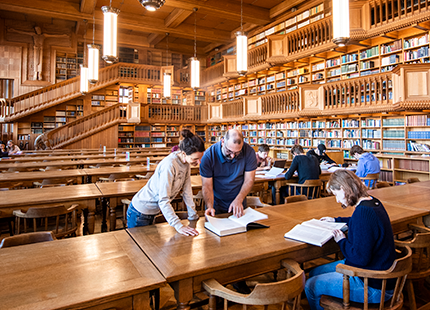 The university has been defining the cityscape for almost six centuries. In 1425 the new university was housed in the clothmakers' hall. The number of students and faculty grew steadily. The prestige of Leuven's university was further emphasised by its famous students, like the humanist Erasmus, the cartographer Mercator, and the anatomist Vesalius. It was no surprise that Thomas More had his famous 'Utopia' printed here. Numerous colleges in a variety of architectural styles, decorate the city centre. KU Leuven grew into a famous university with a highly attractive appeal. It is one of the oldest universities in the world. Knowledge, innovation, and scientific research are central. Over 100 spin-off companies make Leuven a ground-breaking city in health, high tech, and creativity.
Historic and contemporary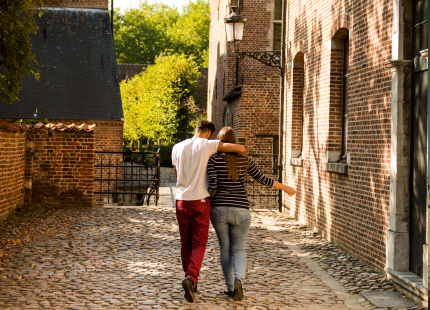 The pride of Leuven is the impressive Gothic Town Hall, with its ornamental towers and 235 statues, making it one of the most famous town halls in the world. The Great Beguinage is a UNESCO world heritage site and an oasis of peace, where the ambience of bygone times shimmers among the cobblestone streets and picturesque houses. These are now inhabited by professors and students. Peace and quiet also permeate Belgium's oldest Botanical Garden. You will find many historic university-colleges and other buildings, like the former Cloth Hall and the Anatomical Theatre, spread out around the city. The University Library with its carillon tower and impressive reading room stores over 1.5 million volumes. There are also many monumental churches and no less than four abbeys: Park Abbey, Keizersberg Abbey, Saint Gertrude's Abbey, and Vlierbeek Abbey. For modern architecture head to the museum M Leuven (Stéphane Beel). Or to Vaartkom, the old industrial zone near the canal and harbour is undergoing a complete metamorphosis. Renovated factory buildings have been converted into shops, restaurants, apartments, and office spaces.
Compact, cozy, something for everyone
All of Leuven's sightseeing stops are either within walking distance or cycling distance from each other. Renting a bicycle is a handy way to take also a ride around the green city periphery. The selection of restaurants and shops is wide and diverse. Head into the streets around the Grote and the Oude Markt for a tasty lunch or dinner. There are plenty of choices, from Leuven's 'haute dogs' to vegetarian dishes, from traditional Flemish specialities to gastronomic cuisine. Vist one of the trendy coffee bars. Stroll through the shopping streets, lined with fashionable design shops, unique boutiques, larger chain stores, and any number of speciality shops. You can also come shop here till you drop every first Sunday of the month. Experience the delightfulness of this compact city together with Leuven locals.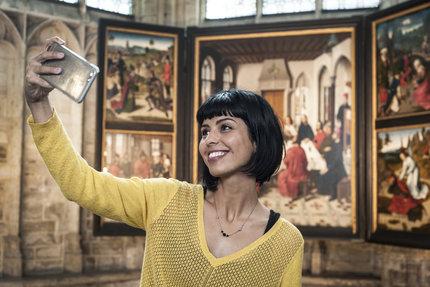 Leuven is also a city for art enthusiasts. M Leuven brings together old and new in surprising ways. Leading Belgian architect Stéphane Beel integrated the historic properties and contemporary architecture into a single, sleek whole. The museum brings the visual culture of the past and present together under one roof. The combination of ancient masters and contemporary art, presented throughout the permanent collection and the temporary exhibitions, makes M unique in Flanders. Just a little bit up the road, Saint Peter's Church hides a great many art treasures. An absolute masterpiece is 'The Last Supper' by the Flemish Primitive Dieric Bouts. This triptych is still hanging in the chapel for which it was painted almost 600 years ago.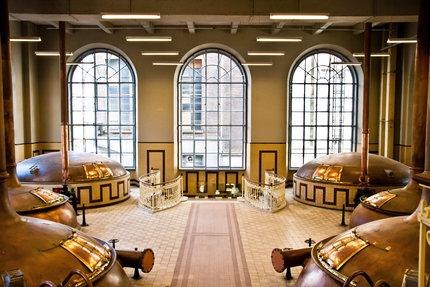 While in Leuven, be sure to enjoy a refreshing pilsner or regional beer at a pleasant sidewalk café or in one of the many authentic pubs. The first Stella was brewed here in 1926, at De Hoorn brewery. Today, Stella Artois, now a part of AB Inbev, the world's largest brewery concern, is still firmly rooted in its hometown Leuven. You can tour the brewery during the weekend while it's in full operation. The contrast with home brewery Domus Brauhaus, where the beer flows straight from the brew-kettle to the tap, couldn't be greater. You will find several artisanal breweries in the Leuven periphery that are also definitely worth a visit. During the annual Leuven Beer Weekends in April, Leuven does its name as Belgian's beer city even prouder. For three consecutive weekends, you can enjoy beer festivals, workshops, surprising tasting sessions, and interesting brewery tours. It's a must for every beer buff.
Centrally located, easily accessible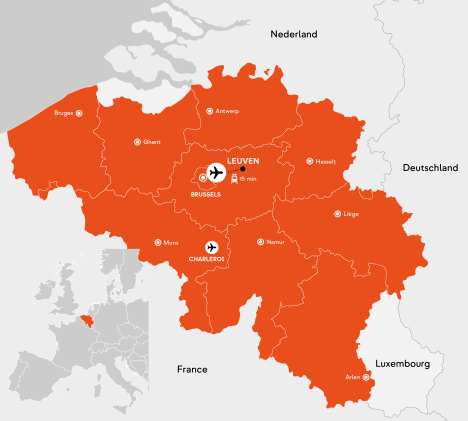 Leuven lies right in the centre of Belgium, around 30 km to the east of Brussels. Trains will bring you comfortably from the neighbouring countries straight to the heart of our city. There's a regular train running from Brussels National Airport (Zaventem) that will bring you to Leuven in under 15 minutes. And no matter where you drive across the Belgian border, you're always just a stone's throw from Leuven. You can also quickly and easily travel from Leuven to other Flemish cities.
14 min by train from Brussels Airport
less then 2 hrs from Rotterdam, Lille, Paris, Cologne
less then 3 hrs from London, Amsterdam, Düsseldorf, Frankfurt

Info: Travelling to Leuven?