University Library & Tower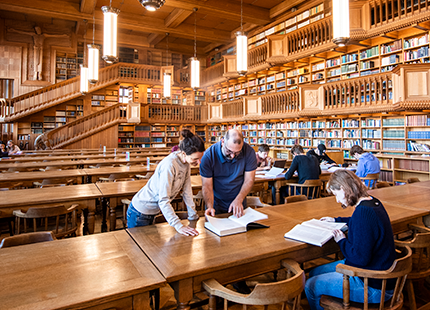 If you want to learn more about the university library's turbulent history and its impact on the city, you have to climb the five floors of the library tower. A photo exhibition takes you to five significant periods in the library's history.
After the fifth floor, you reach the balcony where you can enjoy a unique panoramic view of the city.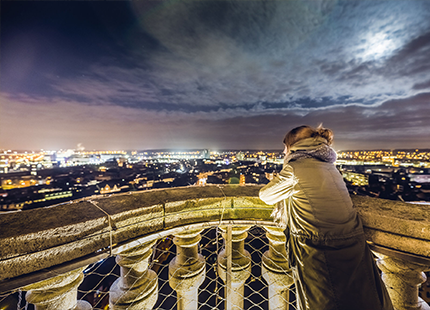 During Winter Season Leuven, you can exceptionally visit the tower of the University Library in the evening. A unique opportunity to enjoy the amazing view of the city all lit up.
Thursdays 7, 14, 21 & 28 December 2023 • 17:00-22:00 • Tickets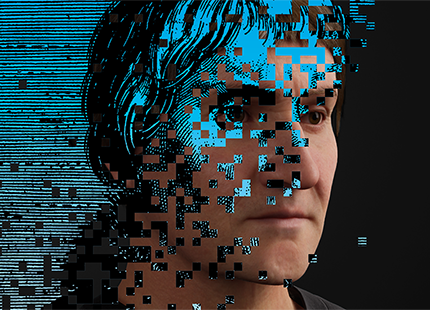 Bouts 2023. New Horizons in Leuven
In the autumn of 2023, the 'New Horizons' city festival will lead us into the world of Dieric Bouts, undoubtedly Leuven's most important painter.
With the exhibition '(Un)chained Knowledge', the library shows how knowledge was disseminated and controlled in the fifteenth century.
Practical info
Individual visitors:
Mondays to Fridays

Tower + library with audiotour: 09:00-18:00 (last climb at 17:00
Library with audiotour: 09:00-19:00


Weekend & holidays

Tower + library with audiotour: 10:00-18:00 (last climb at 17:00)


Attention! You can only visit the Reading Room on Saturdays & Sundays
More information: KU Leuven
Visit the Town Hall, the University Library & Tower and M Leuven or Park Abbey at a favourable rate with the
ILUVLeuven Ticket
Groups:
Tips
With the ILUVLeuven ticket you can discover the highlights at an interesting rate
Everybody knows the sound of the Liberty Bell, the bass bell that weighs seven metric tons and sounds the hour every day. But there are also 63 other bells. Discover the carillon concerts, tower visits and more.
Download the Heritage App and discover the well and less known aspects of the building (free download at AppStore & Google Play Store.
Accessibility
A maximum of 25 people may climb the tower at the same time
Wheelchair users can consult the texts and images of the exhibition at the reception
There is no lift
The audiotour is available in sign language.
Address: Mgr. Ladeuzeplein 21, 3000 Leuven
T +32 (0)16 32 46 60