Raj: "An ideal place to get inspiration"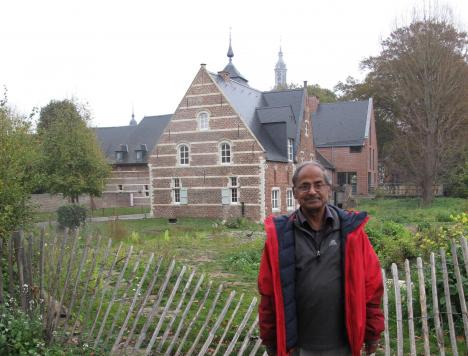 Raj and his wife discovered the abbey together. "We just ended up here while we were out walking. And I still love to walk as much as I did back then. Look; this month, I've already taken 200,000 steps!"
Raj is a walker; that much is clear. He wears sturdy shoes and a windproof, rain-repellent jacket. Already in his sixties, he's bravely out and about, despite the grey weather. "I used to sit behind a desk all day. Both during my studies and at work," sighs Raj. "Retiring has a huge advantage: I now have so much time to walk!"
"It's all about exploring. The Park Abbey is a fantastic green zone," Raj continues. "When we have Indian guests over, I also guide them around here. On weekends, or during the summer holidays... They all love it," smiles Raj.
"I've seen everything change"
When we ask how Raj ended up in Leuven, his life story tumbles out. "When I was a consultant engineer, I met a Belgian businessman in the context of a trade mission. He invited me to Leuven and eventually took me on board. I worked at his firm until my retirement," Raj smiles.
Raj has been in Leuven for 35 years. "When I first came here, I was deeply impressed by the historic buildings, their architecture... I had never seen anything like that in India. And the best part is, I've seen everything change. The Ladeuzeplein, the station square... The city has matured, just like us."
Raj also finds the transition at Park Abbey particularly beautiful. "I like to visit abbeys, both with my family and alone. It offers a good moment to reflect. My wife and daughter regularly light a candle here in the church. We are Hindu, but we bring an ode to God in this way. Because everything we get from nature is a gift from God."
To get inspired
Raj is currently following a sculpture course at the SLAC / Academy of Visual Arts. "When I mentioned Park Abbey, my teacher said that this is an ideal place to get inspiration for sculptures. There is so much, if only you take the time to look around. And you know: time is on our side," Raj concludes.