Headmaster Bart and his wife Eva from Aarschot are loyal visitors to Leuven. They have been coming for years because they love the good things in life. In addition, there is always something new to experience in the city. The couple always find their way to their favourite shops and restaurants.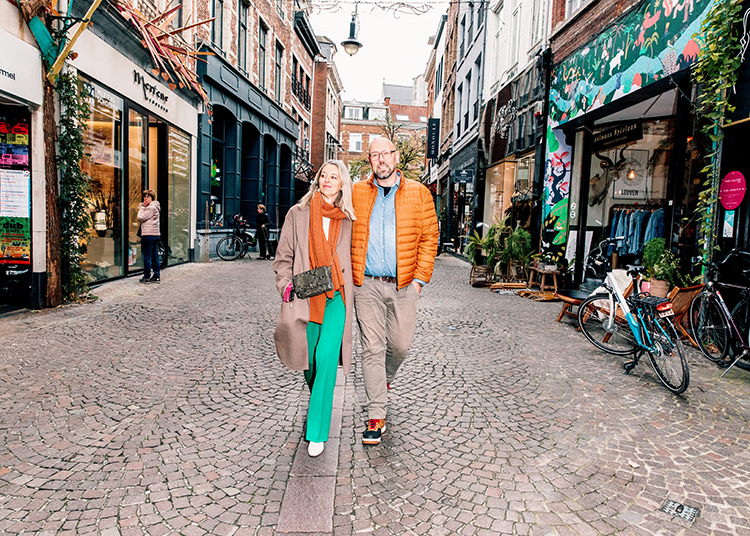 Nog just any design spot (Plek)
Eva says: "I love coming to Leuven to shop, to have a coffee date with my friends or to eat something delicious. When I am in Leuven together with Bart, we regularly go to interior shops such as Plek in Mechelsestraat. The perfect place to score gifts for all kinds of occasions. We have also bought nice things here for our home. Bart adds: "Yes, like these nice coffee cups. We use them at home every day."
Variety on the menu makes you hungry
The walk through Leuven takes them to the Vismarkt. Bart: "We are here at the Optimist, one of our favourite addresses for lunch or a delicious dinner." It quickly becomes clear why they find it so cool here. Eva mainly has a taste for the home lemonades. "They are made fresh here. Great in the summer or after a day of shopping!" Bart is slightly more hungry. "I always look forward to the changing dishes or the sharing menu. Today I think we're trying the bavette."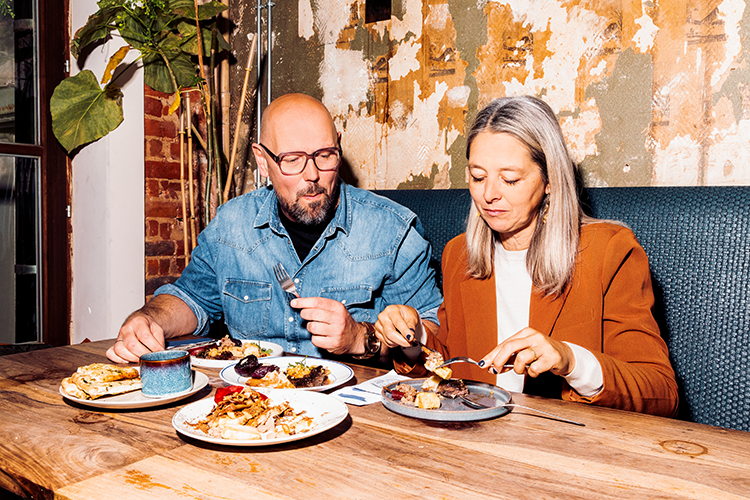 Coffee bar, shops, concert, etc. Why choose if you can do everything in a single day?
Bart and Eva complement each other seamlessly as they describe their ideal day in Leuven. Bart: "We would start with a coffee in Koffie en Staal on Dirk Boutslaan." The right choice, because what you find there far exceeds the offer of the typical coffee shop: you can also find beautiful design furniture, decoration and even jewellery there. Eva: "Yes, and after our coffee we go shopping in the Mechelsestraat and maybe we will end the day with a concert in the Depot." Have we mentioned that Eva and Bart love the good life?