On this page, you can take a virtual tour via StoryMapJS!
Are you viewing this page on a mobile device / tablet? Then swipe to the left (below).
Are you viewing this page on a desktop / laptop? Then click on the right arrow, next to the title and the photo.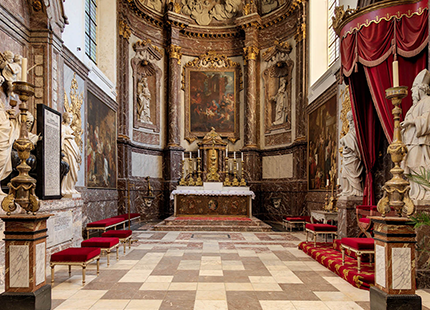 Sint-Jan-de-Evangelistkerk
Deze kerk van de Abdij van Park troont uit boven de site. Reeds 2 jaar na de stichting van de norbertijnenabdij in 1129 stond hier een romaanse kapel. In de huidige kerk ziet men nog sporen van de 13de eeuwse romaanse kerk. In de 16de en 17de eeuw werden belangrijke veranderingen aangebracht.
De kerk is hoofdzakelijk in classicistisch wit stucwerk met barokversieringen en elementen in faux-marbre. Het interieur bevat barokbeelden en -meubilair met houtsnijwerk en belangrijke schilderijen over het leven van de Heilige Norbertus en diens grote voorbeeld Christus.