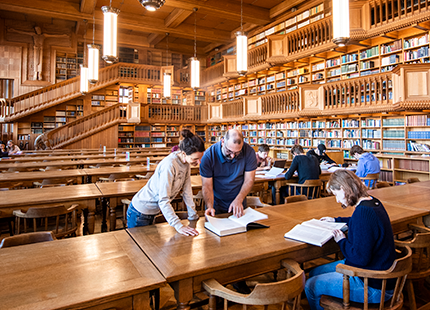 Leuven and the university have been inextricably bound for centuries. The university influences everyday life in Leuven in terms of its cultural history and architecture as well as from a socio-cultural viewpoint. Perhaps you yourself were once a student here? Come and discover (or rediscover) Leuven and its student life!
Example itinerairy
9:30
Arrival in Leuven with a cup of coffee
10:00

Some of the options
• Guided tour 'Highlights & hidden corners'
• Visit at the Town Hall & Saint Peter's Church
• Visit of a selection of university buildings

12:30
Lunch
14:00
Bus ride with guide (own transport) past:
• UZ Leuven (university hospital)
• IMEC (Interuniversity Microelectronics Centre)
• Arenberg Castle
Follow by a walk through the Arenberg Park to the Great Beguinage
15:30

Guided tour of the Great Beguinage

16:30
End of the trip
Book your daytrip
Visit Leuven refers you to one of the partners for a customized daytrip:
Leuven+
Leuven's largest and oldest association of tour guides is brimming with enthusiasm and quality.
Leuven Inside Out
See, hear and taste Leuven like a real local thanks to these creative and interactive experiences!
Leuven Leisure
Innovative tours, original and creative experiences: a different view of the city.