Belgian and international sound artists invite you to listen consciously to the acoustics of the city during unusual walks in different city areas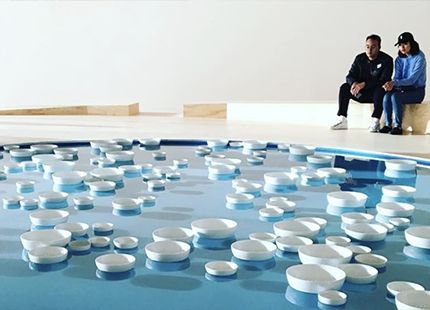 Hear Here takes you on a trip through sound art in Leuven. Fourteen resounding artworks are spread out across ten heritage locations. Every installation engages in an acoustic dialogue with the architecture and the surroundings. The solid brick walls of the KADOC chapel resonate differently from the Botanical Garden in full spring.
This relation between sound, acoustics and perception is a key element in sound art. From buzzing bees to droning organ pipes, from the search for silence to noise disturbance in the North Sea: Hear Here is a surprising discovery route for all ages. Put on those walking boots and experience Leuven heritage sites with different ears and eyes.
Artists: Liew Niyomkarn, Esther Venrooij, Céleste Boursier-Mougenot, Stijn Demeulenaere, John Grzinich, Bouke Groen, Rie Nakajima, Phillip Sollmann & Konrad Sprenger, An Roovers, Félix Blume, Floris Vanhoof, Mario de Vega, Maika Garnica & Nico Dockx, Amber Meulenijzer, Christoph De Boeck
Practical info
23.04 - 06.06.2022
Wednesdays to Sundays: 14:00-19:00
Locations:

Town Hall/Visit Leuven (start)
Museum M Leuven
KADOC
Stadspark
Janseniuspark
Anatomisch Theater
Kruidtuin
BAC ART LAB
Maakleerplek

More information: website Hear Here