André: the intruder who became organist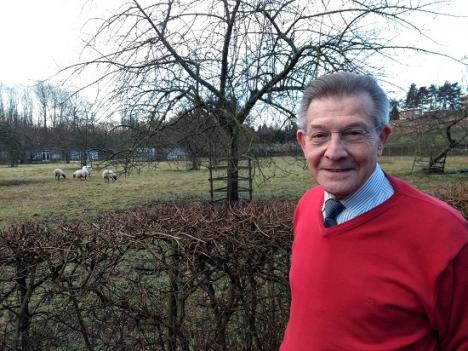 "I snuck in and started playing the organ"
André Kockaerts (72) may have spent more time on the Abbey site than anyone else. He is sexton, organist, choir leader, and much more. And he also has the gift of the gab as evidenced by this monologue about his love for the Abbey .
"I visited the Abbey for the first time in 1952, on Palm Sunday. My parents and I had just moved to Leuven and the Abbey church became our parish church. We came to mass here every Sunday. There were still four Eucharist celebrations on Sunday: at six, eight, ten and eleven o'clock!"
"I don't know how to put it into words, but I felt right at home here. That feeling has only grown stronger over the years. My first communion as a child was held here. In my teens, I became a member of the Chiro youth group, and our meeting rooms were still here at the time. It's also where met my wife, Josiane."
"I asked her to marry me here on the Abbey site as well, in the depths of winter. I got down on one knee in the middle of the frozen ponds! We were married in the St. John the Apostle Church, almost 50 years ago now."
I just started playing the organ up there.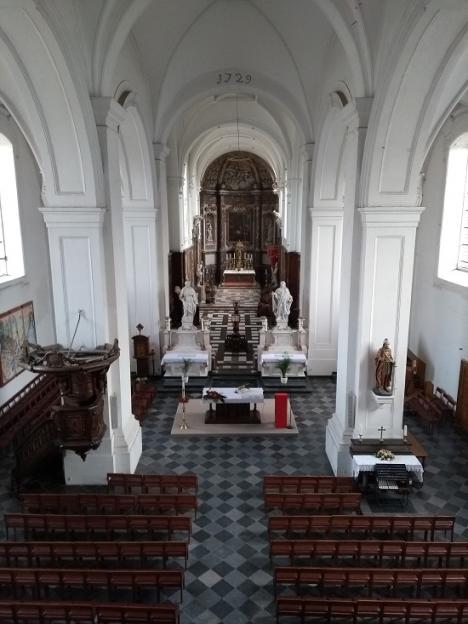 Sneaking into church
"How did I become an organist? I still remember that day vividly. It was a Saturday afternoon. I was 19 and had snuck into the church. The door to the rood loft was open and I just started playing the organ up there. It was magical – the church was bathed in light. As I was playing, it felt as if Father Keven suddenly just appeared next to me. He asked if I would keep playing."
"I didn't have a musical education, but Father Keven was such an inspiring man that I didn't want to disappoint him. The devotion he had was so sincere and credible… That's why I threw myself into learning to play the organ and became an organist in 1965. I quickly became able to liturgically accompany the sermons and add in little musical extras. I had some talent for improv, but I also took private lessons for three years to get better at it."
Sexton and choir leader
"Actually, it just kind of happened. That's how I became a sexton, too. It entails opening the doors, ringing the bells, preparing the special intentions for baptisms, weddings, funerals, commemorative masses, etc. I also lead the choir and attend all of the Alamire Foundation concerts. That may seem like a lot of things, but it doesn't feel like work to me. On the contrary, I am very happy to do it."
"You know, I still say 'good morning' to the deceased Fathers in the cemetery every day. Mr Jans, Mr Amandus, Father Boonants… I miss many of my friends who used to live here. Now there are only about fifty people who attend the church service… What has remained constant, thank God, is the Premonstratensian hospitality."
I still say 'good morning' to the deceased Fathers in the cemetery every day.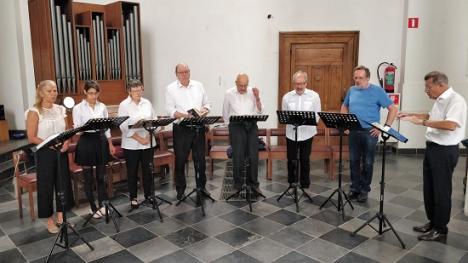 "Like a magnet"
"What makes it so special here? Have you got an hour or so? It's like a magnet. Strolling around the ponds continues to be a pleasure. I recommend that everyone put down their devices and come take a walk around here for an afternoon. There's such a feeling of warmth that'll surround you – even in winter."
"Is that something religious? I believe our hearts are still open to religion. This is also demonstrated by the fact that young and old continue to visit the site. However, many young people are ashamed to express their religious interest, while I choose to cherish it. Everyone should know what the Abbey stands for, shouldn't they?"
More singing
"Perhaps we should just sing more. I regularly go to the vespers (evening prayer, ed.). Those psalm texts are hard to fathom, but sometimes I can feel what they mean. That makes it timeless. The choir also sings a psalm every Sunday. By the way, you don't have to be able to sing for that – you can learn!"
Do you feel called to join the Abbey choir? Then send an email to André at andre.kockaerts@telenet.be!