Locals about Park Abbey: Sven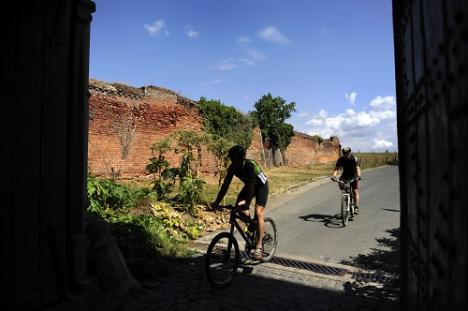 "In Tuscany this site would be overrun"
Cyclist Sven often passes through Park Abbey. "There is nothing that gets on your nerves at the abbey: no traffic, no ugly buildings along the road… Being there makes me feel truly happy."
Sven (40) has been visiting Park Abbey since he was a child. "We walked around the ponds with my grandfather and I cycled here with my father when I was a little chap. It's so beautiful here – if this site was in Tuscany, it would attracts tourists from all corners of the world. That's why I post photos of the abbey on Instagram."
Sven crossed the city and the countryside as a racing cyclist. "I guess you could say that I know every rural road within a radius of 40 km around Leuven", he says. "The abbey is on the road that brings me from the hilly area south of Leuven back home. It is the last incline before I arrive home."
"Perfect counterweight"
Sven never skips the abbey. "It is my first stop or my last stop. It gives me tremendous pleasure, even if I only ride through this magnificent setting for five minutes. The abbey is the perfect counterweight for all the frustrations on the road. It's calm and quiet here. It feels like there is more oxygen here. Now that I think about it, that's probably true", he laughs.
As a journalist, Sven consciously seeks out that peace and quiet. "In Park Abbey there is nothing that gets on your nerves: no traffic, no ugly buildings along the road… Being here makes me feel truly happy. These days I don't ride as fast as I used to. I am able to enjoy my surroundings and nature more. The bicycle bridge over the railway offers the most beautiful view of the abbey. Those guys really knew how to pick a spot", he concludes.