Professor about Park Abbey: Paul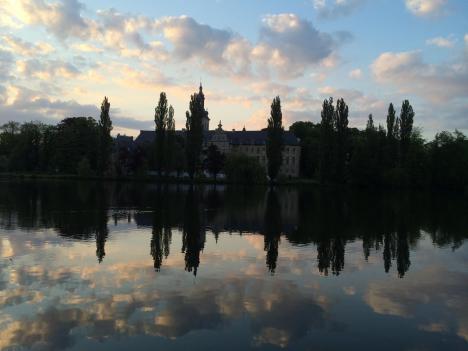 "You're guaranteed to have wonderful, peaceful moments at the abbey"
Professor Paul De Grauwe (71) has been visiting Park Abbey for years. "I first learned about the abbey site when I came to work in Leuven. It's an important place, both religiously and culturally. I've passed by there many times during my career, but now I go there more than ever."
Paul has lived just five minutes by foot from the abbey for a while now. "My wife and I go there practically every day, via the Hoegaardsestraat, through the tunnel under the railway. And then we walk around the ponds. Those are wonderful, peaceful moments that we create together."
Changing of the seasons
"Walks like these give us time to have good talks," adds Paul. "That's why we like to go there so often when friends come to visit. They're always so impressed and take tonnes of pictures. Even I still do that."
Given that he goes there nearly every day, Paul and his wife get to see the changing of the seasons up close and personal. "It's an incredibly intense experience for us. Like the swans; they've got four little cygnets again. There are days where they hide and we have to go seek them," he chuckles.
Peek behind the scenes
The abbey holds no more secrets for Paul. "We've already been able to take a guided tour behind the scenes. Truly impressive. We also recently visited the exhibition in PARCUM. We regularly purchase things from the abbey shop. We just bought this bottle of apple juice and a jar of red beet spread," he says showing off his purchases.
What makes the abbey so unique in Paul's opinion? "It just all works together; there is a balance between nature, with the ponds and birds, and architecture, with the abbey buildings and the church tower. It's got loads of charm," says Paul.