A shopkeeper about Park Abbey: Myriam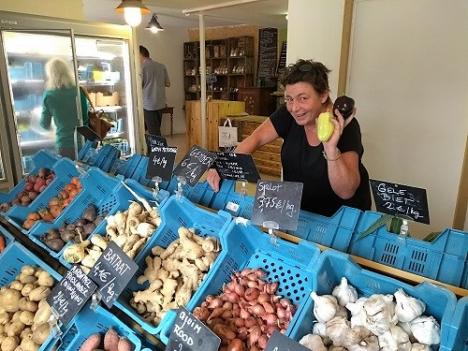 "Not just one of your ten-a-penny shops"
You can find Myriam De Baere (53) on the Neerhof nearly every day. She runs the Abbey shop, De Wikke. Over the past five years, this has grown from a head of lettuce under an umbrella into a fully fledged organic shop. "I've even had someone come in asking to buy consecrated wafers!"
Are you hungry for some winter radish, parsnip, or Jerusalem artichoke? Or maybe just some regular carrots, tomatoes, or cucumbers? You'll find them all in the Abbey shop on the Neerhof. All organic and grown locally, some of them right there in the vegetable garden ('Lochtinck') at Park Abbey.
"The vegetable garden has been around since the Middle Ages. This makes agriculture a centuries-old function of the Abbey. Brother Frans was the last to run the Abbey farm, up to the early 1990s. A lot of people used to bring their milk jugs to get milk at the milking parlour," says Myriam.
The vegetable garden was originally a side-field for De Wikke. That is a landscaping project by Wonen en Werken, a social economy business. Supervisor Bruno and gardener Tim worked at the Abbey from April to October. "We're here because of them. They experimented with growing cardoon, asparagus, salsify, and others. This is how our story grew organically."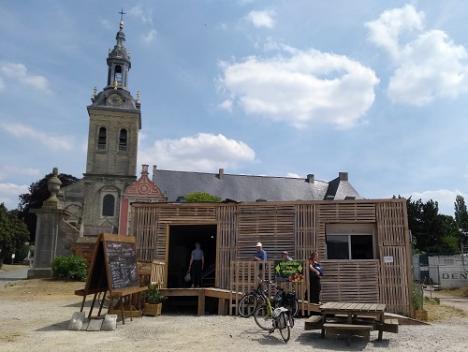 From an umbrella to a shop
Myriam has been living in Leuven since 1990, but never or rarely ever actually came to the Abbey site before 2012. "I think I came here twice – I've never really been into walking. Naturally, that changed when I started working at De Wikke," she laughs.
Local residents were already asking about organic vegetables back then. "Originally, our shop was just an umbrella with a head of lettuce under it. People would put their money in the mailbox because there wasn't a cash register," Myriam remembers. "When the demand only increased, we created an actual shop."
A good range of products
The Abbey shop has been out on the Neerhof since April 2018. "Some people have thought it was the reception desk, but it clearly isn't," laughs Myriam. "I've even had someone come in asking to buy consecrated wafers. But we don't sell that," she winks.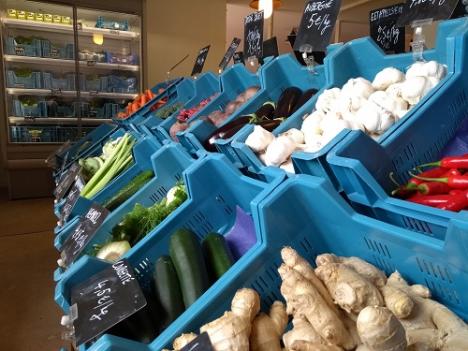 The Limburg native passionately praises her merchandise, "We're not just one of your ten-a-penny shops. We only sell organic fruit and vegetables, supplemented with a few bread products, dairy, fruit juices, biscuits, etc. The perfect picnic fare. I really love to work in the garden myself. So, I can give people a few tips, too," adds Myriam.
Why organic?
Why should you opt for organic? "Organic is better for the environment, for the bees and the soil. You're sure you're getting a natural product from us: a lot of our range comes directly from our own garden, which everyone is welcome to visit, by the way. The gateway, to the left behind the Norbertuspoort, is open every day from 9 a.m. to 4 p.m. I try to stop by regularly during my lunch break."
Not all the fruit and vegetables are grown on the Abbey site. "Our own harvests will fill the shelves first. Then we see what's available locally, and when that's not possible, we buy from an organic wholesaler. And just to be perfectly clear, the wholesaler grows locally, too," says Myriam.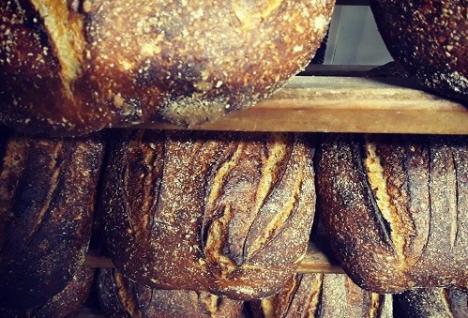 Calling card for local companies
De Wikke is a calling card for local companies. "The bread from Korst bakery is fabulous, as are the fresh cheeses and yogurt from BoerEnCompagnie. The organic eggs from Eke are also incredibly popular and the biscuits from De Wroeter sell out quickly every time," she says.
"I love to work here," Myriam adds. "I think it's just wonderful that there's music from the carillon now. You know, people come from far and wide just to soak up the peace and quiet of the Abbey. I've been here so often that I've become used to the site's beauty, but I still regularly stop on the bridge leading to the Abbey. That's one of the best panoramas to me."
The Abbey shop is open Tuesday through Saturday from 10 a.m. to 5 p.m. – and to 6:30 p.m. on Tuesday. You can find more info about De Wikke on this page.