Tourists about Park Abbey: Manu and Leilani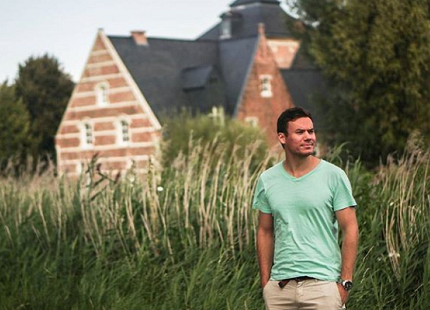 "The perfect ambiance"
Manuel, 29, from the Netherlands visited Park Abbey together with his girlfriend, Leilani, 25. "We fully enjoyed the ambiance of the Abbey. There's nothing like it in Amsterdam."
Manuel Wortelboer visited the Park Abbey as a tourist. "My girlfriend Leilani is studying medicine and needed to spend some time at UZ Leuven as part of her studies. It was late summer, so I suggested making a city trip out of it. It was our first weekend getaway together," he says.
Manuel works in tourism, but it was Leilani who suggested going to the Park Abbey. "We spent Saturday exploring the city centre, so I used Tripadvisor to find something to do on Sunday", explains Leilani. "The combination of culture, history and nature appealed to us." Manuel nods in agreement. "We fully enjoyed the ambiance of the Abbey. It's exceptionally beautiful here and perfect for an amateur photographer like myself."
Unique location
Manuel calls the Abbey a unique location. "There's nothing like it in Amsterdam. Of course, we have the Westerpark with the Westergasfabriek, but it's not as picturesque as the Park Abbey. And it's only a 20-minute walk from the city centre," he adds.
Manuel and Leilani walked along the ponds and enjoyed a Heverlee beer afterwards in brasserie 'De Abdijmolen'. "It was a wonderfully relaxing day. Not everything was accessible due to renovation work, but it was still worth making the effort to spend the day at the Abbey. If we ever find ourselves in Leuven in the future, we'll definitely visit it again," they conclude.