Meet Johny, chairman of the KWB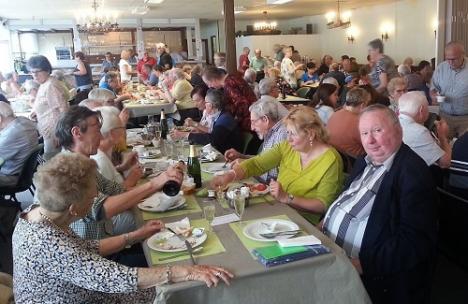 "People come together at the abbey site"
The KWB Park Heverlee, left of St Mary's Gate, stands for social commitment. "We organise numerous activities, including the Park Festivities, brunches, excursions, etc. The goal is to bring people together", explains chairman Johny Behets.
KWB stands for the Kristelijke Werknemersbeweging (Christian Workers Movement) and currently has about 300 members. The association has been on the abbey site for many years. "Our by-laws were drawn up in 1944. Our organisation received a meeting place in the abbey from the abbot at the time. For years meetings took place in St Mary's Gate. I still remember meetings there, with Father Bomans and abbot Rogge", says Johny.
The KWB moved to Patmos, left of St Mary's Gate, at the end of the 1990s. "We have that building in leasehold. It used to be a reception hall, which one of the brothers ran. We retained that function. With the KWB we rent the hall for baptisms, communions, anniversaries, etc. Many people love hosting a party in this historic setting."
Scouts and wedding photos
Johny has been visiting Park Abbey since childhood. "I lived nearby, in the Guido Gezellelaan (now the Paul van Ostaijenlaan, ed.). Our scouts premises was on the abbey site, in St Norbert's Gate. We built a chalet behind the ponds in the early 1960s. It was torn down a long time ago", laughs Johny.
"The Church of Saint John the Evangelist was our parish church. My wedding photos were taken here", he recalls. "We were married in Kortenberg, but came here for the beautiful setting. It's the ideal spot to unwind. We still organise walks here with the KWB."
New dynamism
Johny has noticed a new dynamism on the abbey site since the renovation. "I am really pleased that the site is being improved", says Johny. "The architecture is still intact and we must cherish the nature reserve. The inauguration of the carillon promises to be a new milestone", says Johny.
What does the future hold for the KWB Park Heverlee? "We will continue with the chosen course. We are in the midst of putting together a programme for next year. In the meantime, we have organised a mussel feast, card parties, walks, gymnastics activities, etc. Just like the abbey, we keep moving forward", concludes Johny.
You'll find more information about KWB Park Heverlee on their website (only in Dutch).