Locals about Park Abbey: Charlotte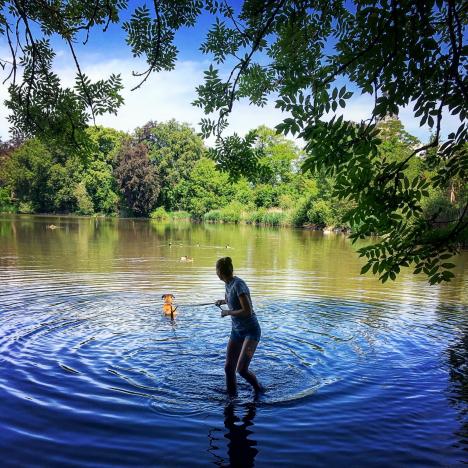 "A new story every day"
You might have seen them running there: Charlotte (22) and her dog Spike. "Since I got him, we go to Park Abbey every day. There is always something to see – I come home with a new story every day."
Student Charlotte Sijmens lives two streets away from the Abbey site. "It was only natural to head out for the occasional walk there. Being so close, out in nature; it was the perfect way to relax. We enjoy the birds, the peace, the ponds… You'll meet other people there, but go another 50 metres down the path and it'll seem like you're all alone again."
Dog on a leash
Charlotte has been going there since she was a little girl, but now that she has her Staffordshire Bull Terrier, Spike, her love for the Abbey has only grown. "He's crazy about a trip around the pond. Since I take the dog out for walks, I go to the Abbey site three or four times a day. I do have to keep him on a bit of a short leash because he likes the ducks a little too much," Charlotte laughs.
Charlotte is also an athlete. She does the 3.000-metre steeplechase. Does she train on the abbey site? "A run around the ponds is just a bit short for endurance training. But it's perfect for just getting away for a while. Every time you go for a walk there, you notice something you hadn't seen yet. Suddenly, a beetle, salamander, or frog will pop up. I come home with a new story every day," says Charlotte.
Brasserie De Abdijmolen
Living nearby, she has had a front-row seat to how the site has changed. "I remember that there used to be tennis courts and a football pitch where only an area of natural beauty is today. But it's really the brasserie that's an added value. Even Spike understands that we go there regularly for a drink – he turns there almost automatically," Charlotte laughs.