Locals about Park Abbey: Asli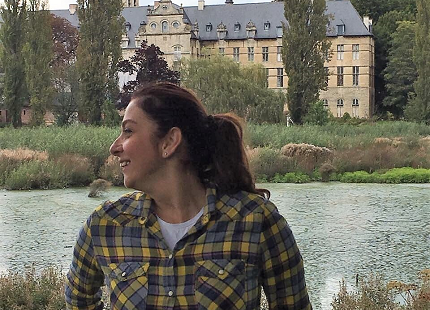 "I love the historic, mystical atmosphere at the abbey"
Asli Tezcan and her family are fervent visitors of parks all over the world. Recenlty, the Park Abbey gained a special place in their heart.
Asli (46) comes from the Turkish capital Ankara, but has lived in Leuven for two years. "Before I moved to Belgium, I had already heard good things about your parks", she says. "When we moved here I decided to visit them one by one."
A friend recommended the Park Abbey. "It was an instant hit. During our first visit we had a pleasant walk around the pond. That whetted our appetite so we continued coming here. We have visited the site so often that I've lost count", she laughs.
Beautiful ensemble
What makes the abbey so attractive? "The entrance, with the lions' heads, makes an impression. I love the historic, mystical atmosphere that surrounds the site. The ensemble is beautiful: the ponds, the church, the historic buildings, the café, the museum… I have taken a lot of pictures here", says Asli with a smile.
Asli shares her walks in nature on Instagram under the name 'streetmemories'. "Going to a park is family time. It's the ideal opportunity to experience nature in all its beauty. Nature reminds me of the significance of our existence. As Einstein said: 'Look deep into nature and then you will understand everything better'. I am able to do that in Park Abbey."