Leuven voted one of the five top destinations in Europe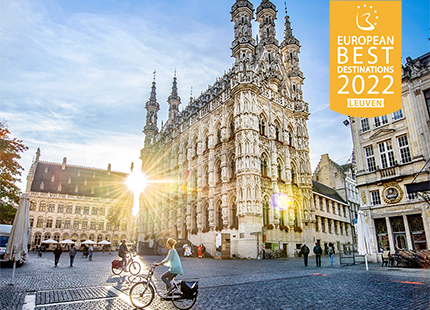 Every year, EuropeanBestDestinations.com - the most visited website dedicated to tourism in Europe - compiles a list of the "European Best Destinations". This year, Leuven made it into the top 5, after an exciting worldwide vote. Curious to know how our city succeeded in winning over voters?
20 dreamy European destinations
The organisation selected twenty European destinations that deserve to be in the spotlight. The emphasis in this regard is on the cultural or tourist offering and the quality of life in the city or region as well as sustainable development. This year, Leuven was also in the running for European Best Destination, along with such cities as Rome, Nijmegen and Prague.
Leuven ended up receiving 47,947 votes from 77 different countries, putting the city in fifth place. The Slovenian capital Ljubljana was ranked first, followed by Marbella (Spain) and Amiens (France) in second and third place respectively. This is the first time ever that a Belgian city has achieved such a high ranking.
Leuven is "Best Open-Minded Destination"
Moreover, Leuven was also voted "Best Open-Minded Destination in Europe", ahead of Amsterdam and London. According to EBD, Leuven is "the Belgian miracle". An open, tolerant city, with a focus on a fair and inclusive future, where everyone is welcome and everyone has a place.
EuropeanBestDestinations.com described Leuven as a city with a great vibe, where everything seems possible and where every meeting counts.