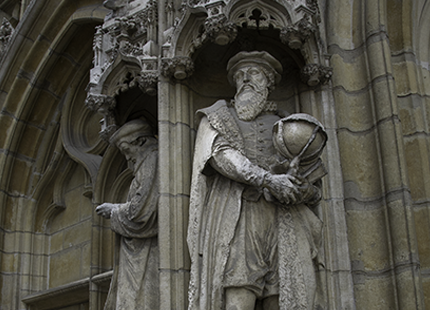 1. Gerardus Mercator | Geographer & cartographer
bottom row - 1st statue on the bottom right
The young Gerard De Kremer (1512-1594) studied mathematics at the University of. He took on a job in the city as a surveyor after completing his studies. This scholar was very interested in the universe and his greatest dream was to draw a comprehensive map book of the earth and the heavens. His life's work would consume him, but he never finished his atlas. When he died in 1594, his descendants were working on his project. It was not completed until 1695 and goes on to become a bestseller.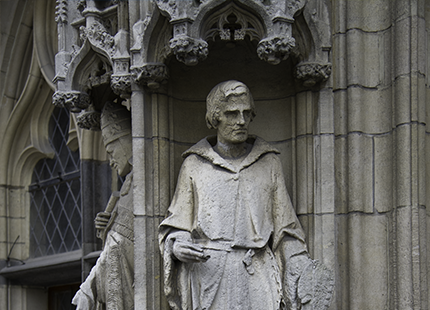 2. Dieric Bouts | Painter
bottom row - 4th statue from the bottom left
Dieric Bouts (±1410-1475) was born in Haarlem but settled in Leuven around 1448. He climbed the ranks to become city painter and painted the triptych 'The martyrdom of Saint Erasmus' and his best-known piece, 'The Last Supper', for Saint Peter's Church. The latter piece still hangs in its original location.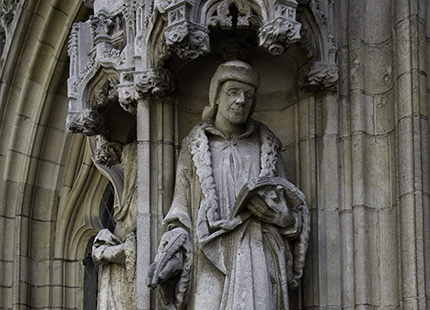 3. Desiderius Erasmus | Humanist & theologian
bottom row - 6th statue from the bottom left
Philosopher, writer, critic of the Roman Catholic Church, philologist. It is difficult to put just one label on Desiderius Erasmus (±1467-1536), but, regardless of what you call him, he became one of the most important humanists of the Renaissance. His most famous work is In Praise of Folly, a satirical and critical portrait of mankind. He founded the Collegium Trilingue to promote the knowledge of Greek, Latin, and Hebrew in Leuven.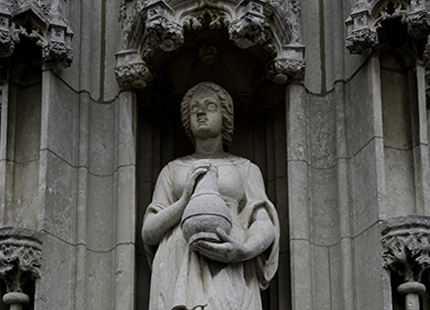 4. Fiere Margriet | The people's saint
middle row - statue on the right side of the southwest turret
Margriet was born into a poor family 800 years ago. Legend has it that after a robbery in the inn where she worked, she was dragged away to the outskirts of the city by six robbers. She fought them off so bravely that they ultimately killed her, throwing her body in the Dijle River. Instead of floating downstream, her body floated back to Leuven upstream. Margaretha of Leuven was beatified in 1902 and her skull is preserved in Saint Peter's Church to this very day.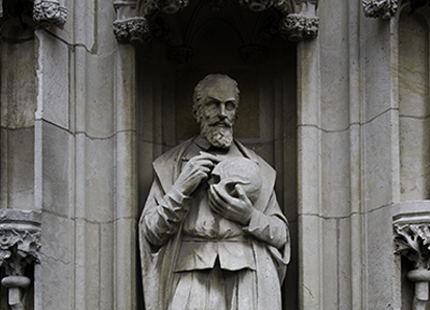 5. Andreas Vesalius | Doctor & anatomist
middle row - statue on the far right side
Andreas Van Wesel – also known as Andreas Vesalius (1514-1564) – studied medicine in Leuven and then obtained his doctorate in Padua. At that time, the study of the human body was still based on the centuries-old ideas of the Greek Galenus, which were obsolete, according to Vesalius, who began to dissect bodies out of curiosity and expressed his findings in the beautifully illustrated 'Humani Corporis Fabrica'. The book incited a revolution in the medical world and Vesalius was appointed as the physician to Emperor Charles V and his son Philip II later on.