Beer and breweries are entrenched in the economic, social and cultural life of Leuven. In the mid 18th century, there were no less than 42 breweries along the banks of the Dijle river. Brewers were generous with their grain in the prosperous city of Leuven The result was a rich beer with a soft flavour that easily stood out above its competitors from other cities. It therefore comes as no surprise that Leuven's beer became popular and loved far beyond the city walls. Yet the rich beer culture is still deeply rooted in the city.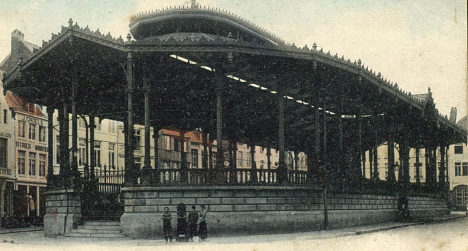 This is the oldest square in the city. Way back in the 13th century, fishermen would sell their fish at this inner port along the Dijle. In 1763, when Leuvense Vaart was inaugurated, most port and trade activities moved to the port at Vaartkom. In the late 19th century, the Dijle was vaulted over. However, the market with covered stalls remained for quite a while on the square. In the 20th century Vismarkt was still a popular nightlife spot brimming with pubs.
And now a fun little game: spot the fish on the oldest buildings at Vismarkt.
Here and there you will see plaques on façades that refer to long-lost breweries big and small. After all, during the Middle Ages and in modern times, there were many of them, particularly along the banks of the Dijle river, where they sourced their water. The plaque on the façade of the building at Mechelsestraat 37 bears the name 'de Kruiwagen'. This is a reference to the brewery 'De Grooten Cruywaeghen' and the adjoining inn 'Den Cleynen Cruywaeghen' , where beer was brewed and drunk as far back as the 15th century.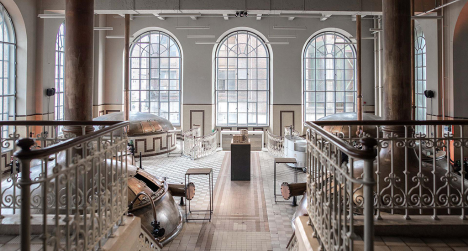 Until recently, Vaartkom and Sluisstraat were considered the Detroit of Leuven, with abandoned factory buildings, warehouses and breweries. Today, these old buildings have been turned into modern residential lofts and offices, trendy shops and restaurants overlooking the gently bobbing leisure boats. An entirely new and thriving neighbourhood, with the uncovered Dijle running through it like blue gold.
The history of the most famous brewery in Leuven goes all the way back to at least 1366, when it was known as Brouwerij Den Hoorn. In June 1708 a certain Sebastiaan Artois took over as Master Brewer. Nine years later, he sold the brewery, leaving his own name on the façade.
Welcome to the Oude Markt, the Longest Bar in Europe, where forty or so pubs are ready to welcome you on an unforgettable pub crawl. Thirsty? Not for long, that's for sure! Today, this is a unique nightlife spot, but it was not always like this... In the 1970s, there were many other businesses too here, including a grocer and a paint shop. This is also where the weekly market would be held on Fridays, until the stalls moved to the refurbished Mgr. Ladeuzeplein.