Abdij van Park is a 12th-century heritage site. Some parts of the cloisters are not as easily accessible to those with restricted mobility. 
Within the confines of the architecture, we do our utmost to meet the needs of those visitors whose mobility is reduced or restricted.Suggesties of feedback?
Do let us know how we can improve, and what would make a visit to the abbey and its grounds more pleasant and comfortable. We value your feedback and suggestions.
Priority parking
Access to the Abdij van Park and PARCUM reception is via the central courtyard, Het Neerhof. This path is paved with cobblestones. There are flat concrete strips down either side of the cobbles.
A slightly inclining cobbled path leads visitors through the churchyard to the reception.
Those with restricted mobility can be dropped off at the Abdij van Park and PARCUM reception.
Vehicles may park here for up to 15 minutes.
A side door will lead you through to the terrace. An outdoor lift avoids a number of steps for wheelchair users, stopping at the door to reception
'The heart of the abbey' route
Route description
There is a height discrepancy between the first exhibition space and the ambulatory: the ambulatory is 3 steps lower. The doorway is relatively narrow. The ambulatory houses the stained-glass windows. There is a wooden bench located here.
At the other end of the ambulatory - at the same level - is the refectory.
From there, a narrow doorway leads to the staircase. A wide, wooden spiral stairway leads to the first floor. There is a wooden bench located here.
In order to reach the library, you pass through another narrow doorway. There are a further 8 steps up to the library.
The abbot's lodgings are situated at the other side of the staircase. There are no height discrepancies here.
The wooden spiral stairway leads you back down to the ground floor. The corridor leads you through to the abbot's reception rooms.
From here, you will return to the ambulatory. This involves some five steps up. The exit to the reception can be found at the very end of the ambulatory.
VR experience
Unfortunately, there is no lift access to the cloister library and abbot's lodgings.
Wheelchair users have the possibility of experiencing the cloister library in VR. You will hear audio clips as you look around and virtually experience the room around you.
Other features
Portable folding stools are available to borrow from reception.
Wooden benches are present.
Adapted toilets are present.
Some doorways are not wide enough for some larger electric wheelchairs.
There are minor and major height discrepancies throughout the building.
Please contact us in advance for further guidance or information.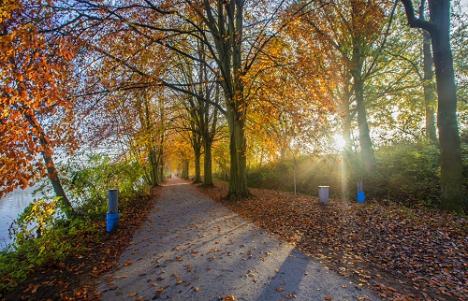 Walk around the ponds
The walking route around the ponds is pushchair- and wheelchair-friendly. The path along the ponds consists of gravel and partial paving.